Latin America and Caribbean Climate Week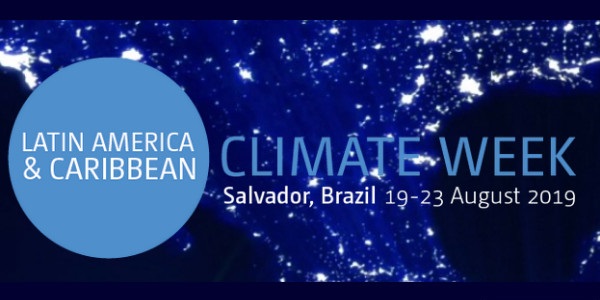 Latin America Investment Facility (LAIF) will be participating in the 'Latin America and Caribbean Climate Week' (LACCW 2019) that will be held in Salvador de Bahia, Brazil, from August 19 to 23, 2019.
This regional event brings together policymakers and other local, national, regional and global stakeholders, to learn and exchange knowledge and best practices for the implementation of national climate plans, the 2030 Agenda for Sustainable Development, and global climate action. Participants will be able to assess, jointly plan or create new climate action initiatives. This year, the various Regional Climate Weeks serve as critical stepping stones to the UN Climate Summit 2019, convened by UN Secretary-General António Guterres for September.
Through its participation in this event, LAIF seeks to explore and exploit synergies with existing and potential partners, with the aim of scaling up innovative climate finance products to enable climate change-related investment, contributing to the economic transition required to address this global issue.LAIF will be cooperating with the EUROCLIMA+ programme, which will have a booth in the exhibition area and will participate in the following events:
| | | |
| --- | --- | --- |
| Date | Time | Event |
| 19/08 | 9:00 am – 5:55 pm | Presentation about EUROCLIMA+ at the Workshop on Urban Mobility in Next Generation NDCs. |
| 20/08 | 10:30 am – 12:00 pm | Presentation about EUROCLIMA+ at the Climate Technology Centre and Network (CTCN) 2019 Latin America and the Caribbean Forum. |
| 20/08 | 2:00 – 5:45 pm | Presentation about EUROCLIMA+ at the Workshop on Knowledge Sharing for Long-Term Strategies (LTSs) Experiences between European and Latin American front-runner countries. |
| 21/08 | 1:30 – 3:55 pm | Thematic block on Cities / Transport |
| 22/08 | 12:30 – 1:25 pm | Side Event: EUROCLIMA+ Supports Climate Policies: Actions and Projects in South and Central America |
You can register online for LACCW 2019 at: https://reg.unog.ch/event/29406/. Once your registration is approved, you will receive confirmation via e-mail.
For more information about projects cofinanced by LAIF that are contributing to the achievement of the Sustainable Development Goal 13 on Climate action, check our interactive map using the SDG filter: https://www.eulaif.eu/en/projects/interactive-map